Activation on Origin
Electronic Arts uses its own game platform. If a game needs Origin, you will find the notice on the product page of each game.
I don't have Origin, what should I do?
You will need to download and install the Origin stand-alone application
Once you've launched the application either sign in at the login window or create an Origin account if you don't already have one. Just click on create your EA account at the bottom and follow the instructions.
You are now ready to activate your game on Origin.
How do I activate my game on Origin?
Launch and log into the Origin stand-alone application.
In the top left corner click on Origin, then click Redeem Product Code….
Enter your code into the Product Code field, and click Next.
Review the Confirm Product description, then click Next.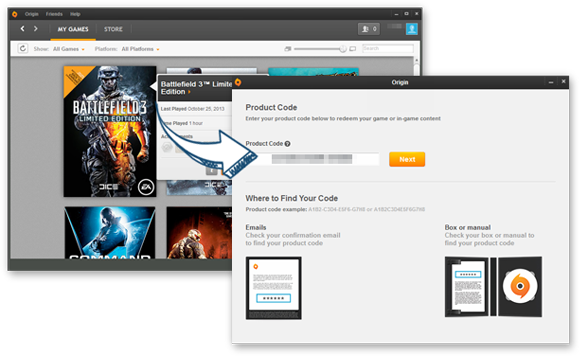 The game is now forever linked with your Origin account. If you need to reinstall the game, or if you wish to download and play it on another machine, please make sure you always use the same Origin account that you created when activating the game.
Origin seems to be down - How do I confirm?
Take a look at the Down detector page. This webpage is contstantly updated by users around the world, and so you can instantly see if the problem is with Origin or if it's with your computer.
For more information please contact Origin support